recently, an article entitled "giving up the traditional lard, leading to the deterioration of the health of the Chinese people" is hot in the circle of friends of the elderly. Excerpts from Xiaojiu:
,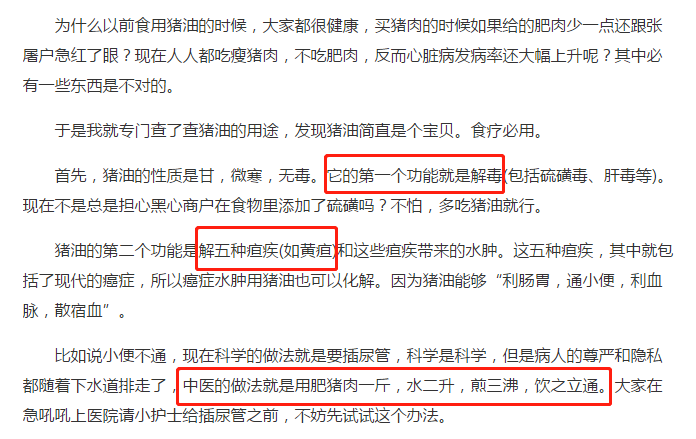 The article
mentioned that there are many dietary remedies for pork, such as "urination is blocked, use one kilogram of fat pork, two liters of water, boil three times, and drink it immediately", and then "women's gynecological inflammation, leucorrhea and stench, with 60 ml lard, 100 ml wine, and boiling for a meal". Are these lard diet prescriptions really effective? Is
and
lard "miraculous effect" true or false?
national famous traditional Chinese medicine Chen Yi said that these may be some folk tested prescriptions, but there are no such prescriptions in China's regular Chinese medicine books, which indicates that the effect of these folk prescriptions for treating diseases with lard has not been confirmed. If lard is used rashly, it may cause other diseases.
and
means that lard can also be used as medicine according to the theory of food homology of traditional Chinese medicine, but how to use it and what effect it has not been confirmed scientifically. Moreover, the dietary structure of the former and the present people is different, and the effect of lard is no longer so obvious. Therefore, these folk prescriptions for curing diseases with lard should not be tried, but should be treated through regular channels.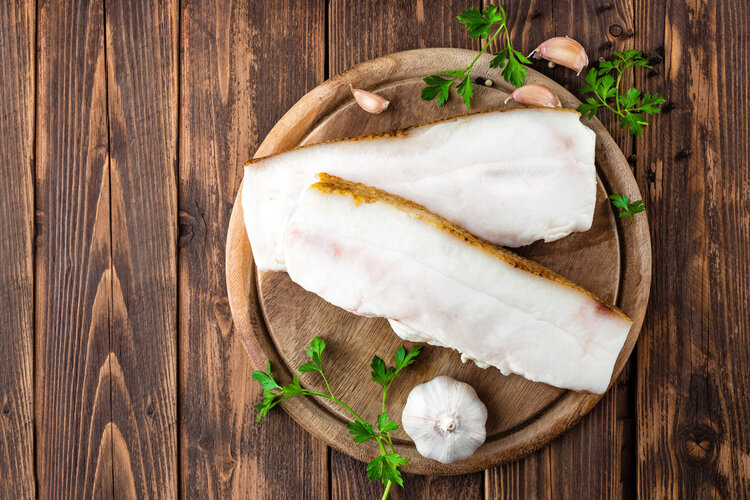 the advantages and disadvantages of eating lard, you should know that
for the older generation, lard is an indispensable part of the kitchen. The dish fried with lard tastes more delicious. But why is vegetable oil widely used now? Is it that people dislike homemade lard troublesome, or is it harmful to human body to eat lard for a long time?
so why did people in the past prefer lard? First, because of the poor economic conditions and low living standards, lard is already the best thing ordinary families can use for cooking. Second, due to the lack of food and clothing, many people were malnourished. The high calorie of lard is good for the weak body. Therefore, from the point of view of nutrition, lard can provide the body with the necessary heat, fatty acids and fat soluble vitamins, and constitute the body tissues. As a protective component of the body, lard plays a role in regulating body temperature and keeping water. In addition, traditional Chinese medicine believes that lard can nourish the spleen and stomach and promote digestion. Lard is smooth and greasy. It can moisten the intestines and relieve constipation.
,
,
,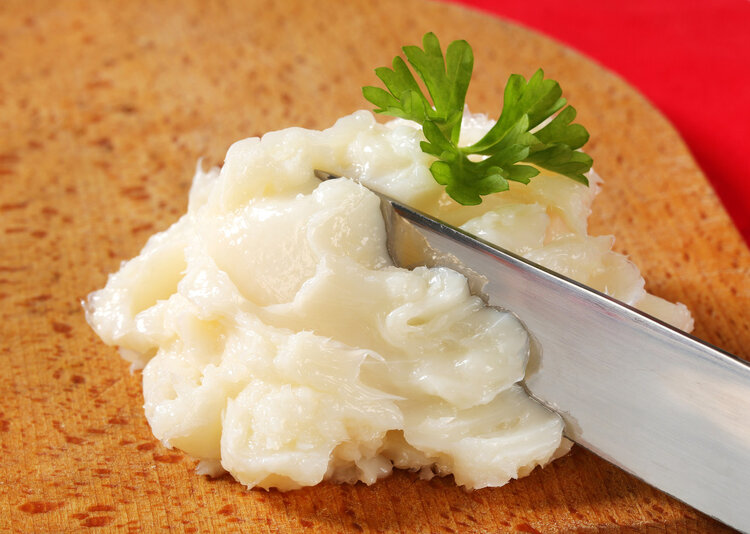 ,
,
,
with the improvement of living standards and the change of dietary structure, people began to use vegetable oil gradually. The reason is that lard has adverse effects on cardiovascular system.
and
lard is a kind of high calorie food, which can increase appetite and cause obesity. Moreover, the content of saturated fatty acids in lard is more than 40%, and it also contains about 93mg / 100g cholesterol. Long term consumption will increase the risk of atherosclerosis and cardiovascular disease. Other studies have shown that lard can inhibit the growth of Lactobacillus and Bifidobacterium in the intestine, which can promote human development and improve the body's immunity. How should we choose
lard and vegetable oil? Compared with lard,
and
are more widely used in vegetable oils such as corn oil, peanut oil and olive oil. Most of the essential fatty acids needed by human body are unsaturated fatty acids, and vegetable oil contains more unsaturated fatty acids, which can reduce blood lipid, improve blood circulation, inhibit platelet aggregation, inhibit atherosclerotic plaque and thrombosis, and play a role in preventing cardiovascular diseases.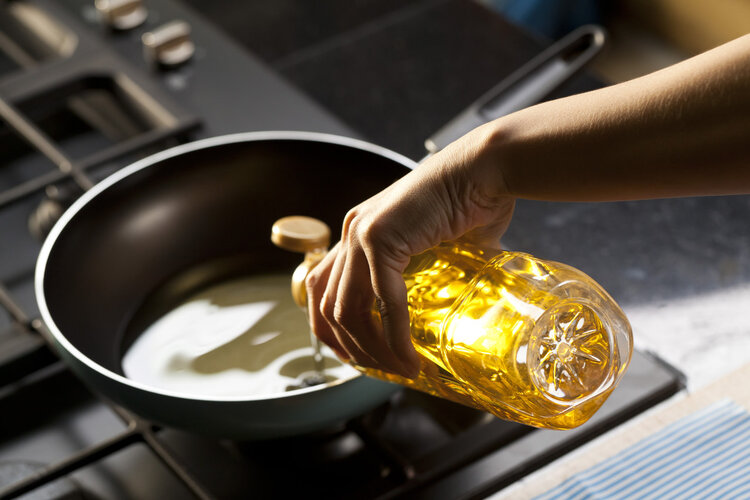 although there are few people who eat lard, some restaurants still use lard in order to make the food more delicious and attract consumers. In fact, there is nothing wrong with lard, but don't eat more. According to the dietary guidelines for Chinese residents, the daily intake of fat is 25-30g.
in addition, lard is best to eat with vegetable oil, mainly vegetable oil, supplemented by animal oil, so that more comprehensive nutrition. If lard is added to the fried dishes, the oil consumption of other dishes should be reduced accordingly.
and
nowadays, people's dietary structure has changed. We should believe in science and eat lard reasonably. For some claims that lard diet can cure disease, don't believe it, otherwise it is easy to eat bad stomach, there is a risk of "three high".
reference:
[1] Wangchuan abandons traditional lard, leading to deterioration of Chinese health expert: unreliable and too one-sided ". Qianjiang Evening News. 2014-07-30"
""
"[2] lard and vegetable oil" mix "or can resist obesity. Xinhuanet. 2017-11-10"
""
"[3] vegetable oil carcinogenesis? The truth is that the official account of the oil consumption is true. "2015-11-13"
is not authorized by the authorisation of the author. It is forbidden to scan the above two-dimensional code by reprinting
,
,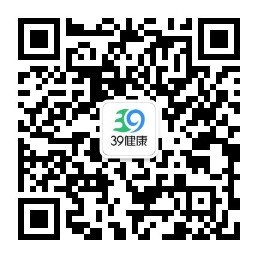 ,
,
, and paying attention to the "39 Health Net" public address, to answer the health problems you encounter, that is, experts have free answers for you.